Parallelus - play two games simultaneously!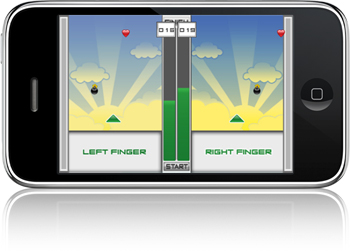 COMMENTS:
"I like parallelus its a cool game. Involes alot of hand eye coordination totay recomend."
"This game is BEYOND awesome! [...] Highly recommended!"
"It's actually a pretty cool game. It's basically like playing split screen two player where you control both players!"
from
touchArcade forum
Boost your brain playing two games simultaneously!
Try it yourself in this original arcade game.
Use your reflexes to complete this double task. Two hands, two brain parts, two game fields. Parallelus it!
Features:
- original concept
- immersive multi-touch control
- over 100 levels
- 3 game modes
- shiny graphics
What's new in version 1.2:
- This version adds OpenFeint integration with leaderboards!
What's new in version 1.1:
- Added music Off/On button
- Added "Advanced level pack" with a new exciting levels
- New item drop schemes for all advanced levels
Support email:
support@innerplays.com
REVIEWS:
"Add this one to the list! Parallelus is fun, creative, and challenging all mixed into one! You're sure to test both sides of your brain with this app!"
by
SlapApp.com
"Parallelus offre ainsi un jeu au concept original et qui exploite parfaitement la technologie utilisée par Apple dans ses terminaux mobiles."
by
iGeneration.fr
"Parallelus is a simple but addicting arcade game. The appropriate, bright graphics and clean interface bring life to the game. But the real joy is the innovative and addicting gameplay."
by
Appmania
"This game will offer some entertainment up front, keeping the player struggling to concentrate on two different movements at the same time."
by
AppVee.com
"So, with this new update to Parallelus, I can whole-heartedly say that it's worth picking up, as it matures the game from a neat idea to a good game. It's only $0.99 as of publication, and it's definitely worth checking out now for more than just its concept alone, it's an actual good game."
by
ThePortableGamer.com
"Here's something a little different. It gets pretty challenging after a while, and it's a good test of hand-eye coordination when you're forced to try and pay attention to two things at once."
by
Free App Store Review
"The screen is split and you must accomplish tasks on both sides of the screen, this alone makes Parallelus unique and challenging before we even talk about the actual game play."
by
iPhone Journal
"Can You Play Two Games at Once? Parallelus is a fun and chalenging game that takes fast reflexes and quick thinking."
by
AppChatter